Project
Christian Boltanski Soundinstalation "Animitas"
15.7.2019-31.3.2021
Within the scope of the cultural project "Hellbrunn Sculpture Park", a contemporary art installation is realized annually on the park grounds of Hellbrunn Palace in cooperation with the Hellbrunn Palace administration, the city parks department and the cultural department of the city of Salzburg. The aim is to present, year after year, new artistic approaches and ideas, all of which have their roots in a symbiosis of art, nature and location. For the year 2019, the organizers have managed to enlist internationally renowned French artist Christian Boltanski (* 1944, Paris) to execute his world-famous "Animitas" bell project at Hellbrunn. This project was displayed for the first time in 2014 in the Chilean desert and subsequently in varying dimensions in Japan, Scotland, Canada and Israel. The "Animitas" installation in Hellbrunn consists of 120 Japanese iron bells that are attached to slender metal rods inserted in the ground. It only takes a gentle breeze to create a delicate symbiosis of sound that Boltanski calls "music of the souls".
Location
Opening hours Park: daily 06:00-21:30 h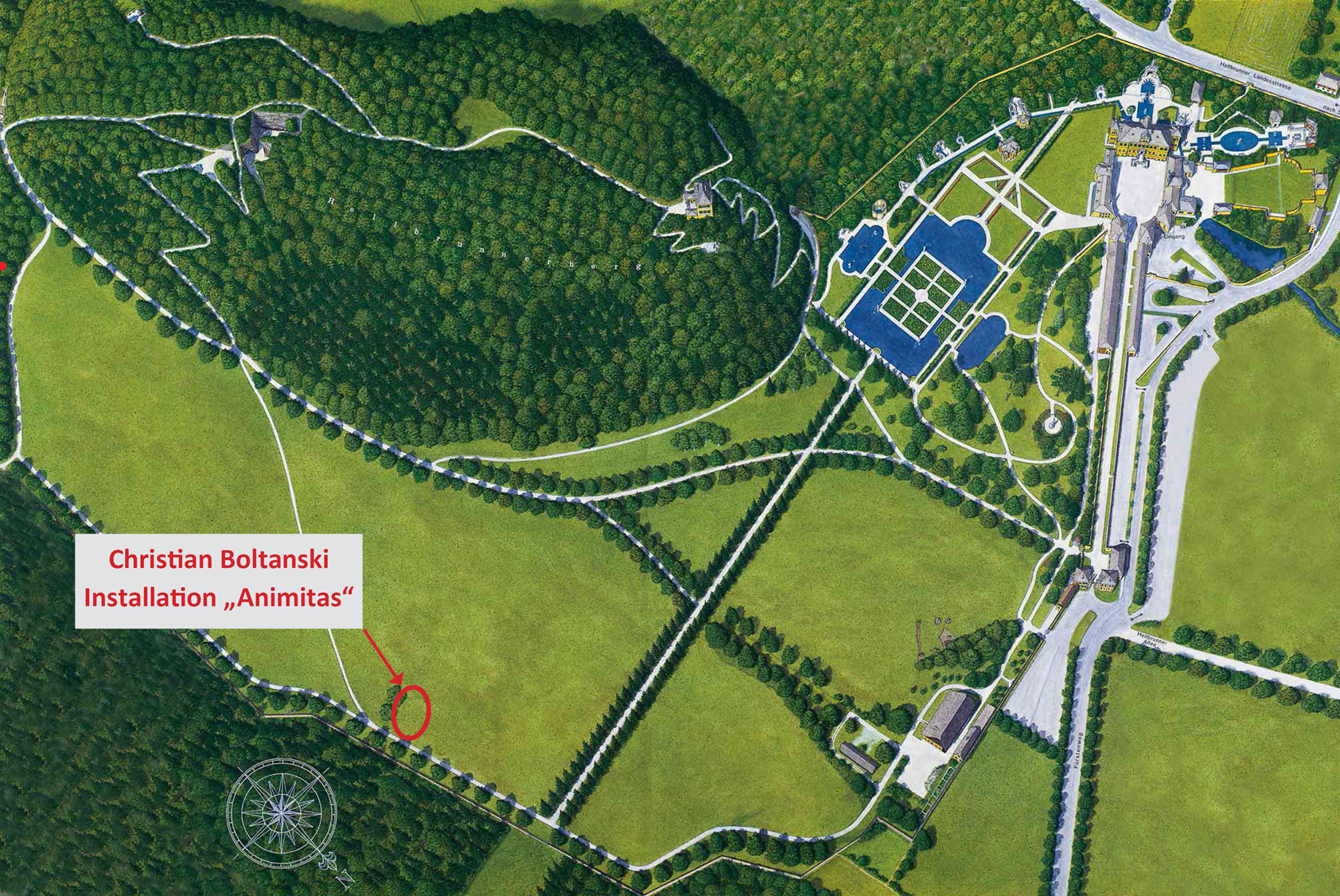 Projektzeitung
Artist
Christian Boltanski
Work
Boltanski — whose work has revolved for decades around memory, transience and time — has already shown his work several times at documenta Kassel and the Venice Biennale. Key themes of his oeuvre include his own past, individual and collective constructs of memory, and human endeavours to avoid forgetting and being forgotten. In 2006, he received the prestigious Japanese Praemium Imperiale for sculpture, and in 2010 he exhibited at Monumenta in the Grand Palais in Paris. In honour of his 75th birthday, the Centre Pompidou in Paris is showing a retrospective of the artist in 2019.
Biography
1944
Born in Paris
1993
Günther Fruhtrunk-Preis des Akedemievereins Munich
1994
Awarded the Kunstpreis Aachen
1997
Awarded the Roland-Preis for Art in public spaces by Stiftung Bremer Bildhauerpreis
2001
Receives art price from NORD/LB, Hannover
2001
Receives the Kaiserring art prize from the city of Goslar
2006
Awarded Praemium Imperiale (for sculpture), Japan Art Association, Tokyo
2007
Créateurs sans frontières, award for visual arts by Cultures France (ex AFAA)
2008
Adenauer – de Gaulle Prize together with Anselm Kiefer
2015
Awarded the Premi Internacional Julio González de la Generalitat Valenciana 2014, Institut Valencià d'Art Modern, Valencia
2018
Receives honorary doctorate from the University of Bologna
Lives and works in Malakoff near Paris
SELECTED SOLO EXHIBITIONS
2019
"Boltanski", Centre Georges Pompidou, Paris, France "Christian Boltanski: Lifetime", Nagasaki Prefectural Art Museum, Nagasaki, Japan
"Christian Boltanski: Lifetime", The National Art Center, Tokyo, Japan
"Christian Boltanski: Lifetime", The National Museum of Art, Osaka, Japan
2018
"Christian Boltanski: Lifetime", The Israel Museum, Jerusalem, Israel
"Christian Boltanski: Storage Memory", The Power Station of Art, Shanghai, China
"Christian Boltanski: Éphémères", Marian Goodman, London, UK
"Christian Boltanski: Saynètes comiques", Librairie Marian Goodman, Paris, France
2017
"NA – Christian Boltanski", Oude Kerk, Amsterdam, The Netherlands
"Christian Boltanski: Animitas", Selected works, Espace Louis Vuitton, Munich, Germany
"Christian Boltanski. Misterios", Museo Nacional de Bellas Artes, Buenos Aires, Argentina
"Christian Boltanski. Works", Kunsthalle Rostock, Rostock, Germany
"Anime. Di luogo in luogo", MAMbo, Bolgona, Italy
2016
Christian Boltanski, "Animitas – les âmes qui murmurent", Teien Art Museum Metropolitan, Tokyo, Japan
"Boltanski. Départ Arrivée", IVAM – Institut Valencià d'Art Modern, Valencia, Spain
"Christian Boltanski: Animitas", Museo de Arte Contemporáneo de Monterrey, México
"Christian Boltanski – La Collection en prêt à l'international", Institut d'art contemporain (IAC), Villeurbanne/ Rhône- Alpes, France
2015
"Christian Boltansk. DOPO", Fondazione Merz, Torino, Italy
"Christian Boltanski – La Salle des Pendus", MAC's Le grand Hornu, Museum of Contemporary Arts of the Wallonia-Brussels Federation, Belgium
Monterrey, Mexico
"Les Archives du Cœur", MAMbo – Museo d'Arte Moderna di Bologna, Italy
"Christian Boltanski", Cricoteka, The Centre for the Documentation of the Art of Tadeusz Kantor, Krakow, Poland
"Christian Boltanski: Sombras", La Lonja – Palma de Mallorca, Spain
"Faire-part", Marian Goodman Gallery, Paris, France
"Christian Boltanski. In the Blink of an Eye", Cricoteka Centre for the Documentation of the Art of Tadeusz Kantor, Poland
2014
"Almas", Museo Nacional Bellas Artes, Santiago de Chile
"Boltanski – 19.924.458 +/-", SESC Pompéia, Sao Paulo, Brazil
MAC Museo de Arte Contemporáneo, Santiago de Chile
"Chance", Carriageworks, Eveleigh, Austalia
"Chance", Sydney Festival 2014, Sydney, Australia
"Heart Beat Archive", Latvian National Museum of Art, Arsenals Exhibition Hall, Riga, Latvia
"Inventory of the Objects Belonging to a Young Man of Oxford", Modern Art Oxford, UK
2013
"Grosse Hamburger Strasse", Kewenig, Berlin, Germany
"Moved", Kunstmuseum Wolfsburg, Germany
2012
"Migrantes", MUNFRE, Buenos Aires, Argentinia
"Chance", Nederlands Fotomueum, Rotterdam, The Netherlands
"Battement de coeur", Musée d'Art Nahum Gutman, Newe Tsedek, Tel Aviv
"Christian Boltanski's Migrantes Exhibition", Museo de Inmigrantes, Argentinia
"The Heart Archive", IHME Project 2012, Helsinki, Finlandia
"Chance", Casa Franca-Brasil, Rio de Janeiro, Brazil
2011
"Sans fin", Fondazione Volume!, Rome, Italy
"Signature", Es Baluard, Palma de Mallorca, Spain
2010
"Les Archives du Coeur", MAC/VAL, MAC/VAL – Musée d'art contemporain du Val-de-Marne, Vitry-sur-Seine, France
"Personnes" in the course of 'Monumenta', Grand Palais, Paris, France
"Les Archives du Coeur", Museum of Old and New Art, Hobart in the course of 'MONA Festival of Music and Art', Hobart, Australia
"Christian Boltanski. No Man's Land", Park Avenue Armory, New York, USA
"Personnes", Hangar Bicocca, Milan, Italy
"Danach", Kewenig Galerie, Cologne, Germany
French Pavilion of 54th Biennale di Venezia, Italy
2009
"La vie possible", Kunstmuseum Liechtenstein, Vaduz, Liechtenstein
"Vanitas", Artproject Salzburg, Krypta Salzburg Cathedral, Austria
2008
"Serce", Galeria Foksal, Warsaw, Poland
"Christian Boltanski: Questions-Responses", Le Consortium Dijon, France
Magasin 3, Stockholm, Sweden
La Maison Rouge, Paris, France
2007
"Herzschlag", Pfefferberg Berlin, Berlin, Germany
"6 septembres", Marian Goodman Gallery, New York, USA
"Monuments Noirs", Kewenig, Cologne, Germany
2006
"Zeit/ Time", Institut Mathildenhöhe, Darmstadt, Germany
"Christian Boltanski", CAPC – Musée d'art contemporain, Bordeaux, France
"Monuments Noirs", Kewenig, Cologne, Germany
2005
"6 Septembres",Musée d'Art moderne de la Ville de Paris, France
"Ultime Notizie", PAC, Milan, Italy
"Faces in the Crowd" (Volti nella folla), Picturing Modern Life from Manet to Today Castello di Rivoli, Torino, Italy
"Künstler. Archiv", Archiv der Akademie der Künste, Berlin, Germany
"Prendre la Parole", Galerie Marian Goodman, Paris, France
2004
"Zeit", Kewenig, Cologne, Germany
2003
"Entre Temps", Galerie Yvon Lambert, Paris, France
2002
Galerie Bernd Klüser, Munich, Germany
South London Gallery, London, England
Jule Kewenig Galerie, Frechen-Bachem, Germany
"Sombras", Museo de Santa Rosa, Puebla, Spain
"Faire part", Palazzo delle Papesse Centro Arte Contemporanea, Siena, Italy
2001
"Christian Boltanski, les Abonnés du Téléphone", South London Gallery, London, England
Marian Goodman Gallery, New York, USA
"La vie impossible", Anhaltinische Gemäldegalerie, Dessau, Germany
"Revenir", Centrum Sztuki Wspólczesnej, Zamek Ujazdowski, Warsaw, Poland
Mönchehaus Museum, Goslar, Germany
"Lichtmesz", Kunst-Station Sankt Peter, Cologne, Germany
Foksal Galerie, Warsaw, Poland
"La Réserve de Bergwerk Auguste Victoria / Blumenthal", Skulpturenmuseum Glaskasten, Marl, Germany
2000
"Le regard égoïste 1", Musée national d'art moderne, Centre Georges Pompidou, Paris, France
"Reflexion", Museum of Fine Arts, Boston, USA
"Montedipietà", ex Monte dei Pegni di Palazzo Branciforte, Palermo, Italy
1999
"Les Enfants de Dijon", Une œuvre de la collection du Musée des Beaux-Arts de Nantes à la Galerie des Franciscains, Nantes, France
"L'Album Photographique de Christian Boltanski 1948-1956", Sprengel Museum, Hannover, Germany
"Gymnasium Chases", Künstlerhaus Schloss Balmoral, Bad Ems, Germany
"Sombras", Museo de Bellas Artes, Caracas; Biblioteca Luis Angel Arango, Bogota
Galerie Yvon Lambert, Paris, France
1998
"Inventaire des livres publiés entre 1969 et 1997", Galerie Dorottya, Budapest, Hungary
Anthony d'Offay Gallery, London, England
"So Far", Kemper Museum of Contemporary Art, Kansas City, USA
"Compra / Venta", El Almudin, Valencia, Spain
"Dernières Années", ARC Musée de l'art moderne de la Ville de Paris, Paris, France
"Night in August", Helsinki Festival, Kunsthalle Helsinki, Finland
"Archives 1988", Centre d'art contemporain de Basse-Normandie, Hérouville Saint-Clair, France
Installation permanente: "Musée du Mémorial du Martyr Juif Inconnu", Paris, France
"Christian Boltanski", Arken Museum for Moderne Kunst, Ishoj, Denmark
1997
"Le voyage d'hiver", National Museum of Contemporary Art, Seoul, South Corea
"Pentimenti", Galleria d'Arte Moderna, Villa delle Rose, Bologna, Italy
Kunstforening, The Bergen International Festival, Bergen, Norway
"Los Justos", MACBA, Barcelona, Spain
"Les Registres du Grand-Hornu", Magasin au Foin, Hornu, France
"Christian Boltanski – Verloren in München", Haus der Kunst, Munich, Germany
"Derniers Jours", Chateau de Plieux, Plieux, France
1996
"Inventar aller Bücher, verlegt zwischen 1969 und 1995 von Christian Boltanski",
Neues Museum Weserburg, Bremen, Germany
Galerie Yvon Lambert, Paris, France
"Die Archive der Großeltern", Installation und Dokumentation des Rechercheprojekts "Wie haben sie reagiert?", Universität Lüneburg, Germany
"Glück auf!", Galerie Bernd Klüser, Munich, Germany
"Alltag", Theater der Welt, Dresden, Germany
"Sterblich", Hessisches Landesmuseum Darmstadt, Germany
"Menschlich", Galerie Jule Kewenig, Frechen-Bachem, Germany
"Passie/Passion", DE PONT Stichting, Tilburg, The Netherlands
1995
"Christian Boltanski, Ilya Kabakov", Musée de la Cohue, Vannes, France
Marian Goodman Gallery, New York, USA
"Christian Boltanski", Académie de France à Rome, Villa Medici, Rome, Italy
Druckgraphik "Gymnasium Chases", Oldenburger Kunstverein, Oldenburg, Germany
"The Work People of Halifax 1877 – 1982", Henry Moore Studio, Halifax, Canada
"Menschlich", Kunsthalle Wien, Vienna, Austria
"Christian Boltanski – Gymnasium Chases", Germanisches Nationalmuseum, Nuremberg, Germany
"Advento and other times", Kirche Sto. Domingo de Bonaval, CGAC Santiago de Compostela, Spain
"Lost", Grand Central Station / Église de la Trinité / Synaogue, New York, USA
1994
"Christian Boltanski, Retrospective", Museet for Samtidskunst, Oslo, Norway
"Christian Boltanski: Lost", Center for Contemporary Art and Tramway, Glasgow, Scottland
"The Lost Workers", The Henry Moore Studio, Halifax, Canada
Église Saint-Eustache, Paris, France
OBALA Art Centar, Sarajevo, Bosnia
"Christian Boltanski: Dispersion", Fundació Espai Poblenou, Barcelona, Spain
"Lost Property", Douglas Hyde Gallery, Dublin, Ireland
"Les Habitants de Malmö", Malmö Konsthall, Malmö, Sweden
"Leçons de Ténèbres", Prague Castle, Prague, Hungary
"Menschlich", Ludwig-Forum, Aachen, Germany
"Reserve", Galerie Marie-Puck Broodthaers, Brussels, Belgium
Installation "Les Archives du Musée Suermondt-Ludwig", Aachen, Germany
"Réserve des enfants de Duisburg", Wilhelm Lehmbruck Museum, Duisburg, Germany
Cincinnati Art Museum, Cincinnati, USA
1993
"Piece unique", Paris, France
"Gymnasium Chases", Städtische Galerie im Städelschen Kunstinstitut, Graphische Sammlung, Frankfurt/M., Germany
"Les Suisses Morts", Musée cantonal des Beaux-Arts de Lausanne, Lausanne, France
"Schenkung Christian Boltanski", Valentin-Musäum im Isartor, Munich, Germany
" Books, Prints, Printed Matter, Ephemera", New York Public Library, New York, USA
"Hinter verschlossenen Türen", Städtisches Museum Abteiberg, Mönchengladbach, Germany
"Diese Kinder suchen ihre Eltern", Museum Ludwig, Cologne, Germany
Galerie Jule Kewenig, Frechen-Bachem, Germany
Galleria Lucio Amelio, Naples, Italy
Le Quai de la Gare, Paris, France
1992
Lisson Gallery, London, England
Centro Cultural Arte Contemporáneo-Fundación Cultural Televisa, Mexico City
Galerie Durand-Dessert, Paris, France
Galerie Jule Kewenig, Frechen-Bachem, Germany
1991
"Archives", Winnipeg Art Gallery, Winnipeg, USA
Marian Goodman Gallery, New York, USA
"Reconstitution", Musée de Grenoble, Grenoble, France
"Christian Boltanski", Portikus, Frankfurt am Main, Germany
"Memento mori und Schattenspiel", Museum für Moderne Kunst, Frankfurt am Main, Germany
Contemporary Art Museum, Houston, USA
"Inventar", Hamburger Kunsthalle, Hamburg, Germany
"Conversation Piece", Lisson Gallery, London, England
"La Réserve des Suisses Morts", Galerie Ghislaine Hussenot, Paris, France
"Les Bougies", The Queens Museum of Art, New York, USA
1990
"Archives", Galerie du Cloitre, Rennes, France
"Meurtres", Galerie des Beaux Arts, Brussels, Belgium
"Réserve", Galerie Elisabeth Kaufmann, Basel, Switzerland
"Réserves", Galerie Crousel-Hussenot, Paris, France
"Reconstitution", The Whitechapel Art Gallery, London; Stedelijk van Abbe Museum, Eindhoven; Musée de Grenoble, Grenoble, France
The Institute of Contemporary Arts, Nagoya, Japan
ATM Contemporary Art Gallery, Mito, Japan
"Contes d' Été", Musée Departemental de Rochechouart (mit Annette Messager), France
Marian Goodman Gallery, New Yorkj, USA
"Les Affinités Sélectives", Palais des Beaux-Arts de Brüssel, Brussels
"Invitation à … Christian Boltanski", Chapelle de la Vieille Charité, Marseille, France
1989
"Archives", Galerie Ghislaine Hussenot, Paris, France
"Lessons of Darkness", Vancouver Art Gallery, Vancouver; University Art Museum, Berkeley; The Power Plant, Toronto, Canada
"La Fete du Purim", Museum für Gegenwartskunst, Basel, Switzerland
"Odessa", Galerie Jean Bernier, Athen
Galerie Marika Malacorda, Geneve, Switzerland
The Israel Museum, Jerusalem
The Power Plant, Toronto, Canada
Galerie Foksal, Warsaw, Poland
Eglise Saint Martin du Méjan, Arles (with Annette Messager), France
Shoshanna Wayne Gallery, Santa Monica
1988
"Lessons of Darkness", Museum of Contemporary Art, Chicago; Museum of Contemporary Art, Los Angeles; The New Museum of Contemporary Art, New York, USA
Galerie Pablo et Pandora van Dijk, Rotterdam, The Netherlands
Ydessa Hendeles Art Foundation, Toronto, Canada
"El Caso", Centro de Arte Reina Sofia, Madrid, Spain
Marian Goodman Gallery, New York, USA
Galerie Wanda Reiff, Maastricht, The Netherlands
Galerie Bébert, Rotterdam, The Netherlands
"El Caso", Galerie Crousel-Hussenot, Paris, France
1987
Galerie Roger Pailhas, Marseille, France
"Le Lycée Chases", Kunstverein für die Rheinlande und Westfalen, Düsseldorf, Germany
Galerie Chantal Boulanger, Montréal, Canada
"Le Lycée Chases", Maison de la Culture et de la Communication, Saint-Étienne, France
Galerie Hubert Winter, Vienna, Austria
"Théatre de Christian Boltanski", Maison de la Culture, La Rochelle, France
1986
"Lecons de ténèbres", Kunstverein, Munich, Germany
"Lecons de ténèbres", Kunsthaus, Zurich, Switzerland
"Christian Boltanski. Peindre photographier", Galerie des Ponchettes, Nice, France
Galerie des Arènes, Nimes, France
"Monuments", Galerie Crousel-Hussenot, Paris, France
"Lecons de ténèbres", Festival d'Automne, Chapelle de la Salpétrière, Paris, France
Galerie Elisabeth Kaufmann, Zurich, Switzerland
1985
"Monuments", Le Consortium, Dijon, France
Ex-Stalloni, Reggio nell'Emilia, Italy
1984
"Filme von Christian Boltanski", Kunsthalle, Bern, Switzerland
Galerie Crousel-Hussenot, Paris, France
Galerie Elisabeth Kaufmann, Zurich, Switzerland
Centre Georges Pompidou, Paris; Kunsthaus, Zurich; Staatliche Kunsthalle, Baden-Baden; Kunstverein, Bonn, Germany
Galerie t'Venster, Rotterdam, The Netherlands
1983
The Aldrich Museum of Contemporary Art, Ridgefield (Connecticut), USA
1982
Sonnabend Gallery, New York, USA
"Christian Boltanski", Nieuwe Museum De Vleeshal, Middelburg, USA
1981
Galerie Marika Malacorda, Geneve, Switzerland
"Compositions", ARC / Musée d'Art Moderne de la Ville de Paris, Paris, France
Galerie Chantal Crousel, Paris, France
Carpenter C. Harvard University, Cambridge (Mass.), England
"The Archives", Art Information Centre Peter van Beveren, Hasselt, Belgium
1980
"Compositions", Musée des Beaux-Arts, Calais, France
Galerie Sonnabend, Paris, France
1979
"Les Modèles. Cinq relations entre texte et image", Maison de la Culture, Chalon- sur-Saone
Galerie Erwin Stegentritt, Dudweiler, Germany
"Projections", The Kitchen, New York, USA
Sonnabend Gallery, Paris und New York, France/USA
"Oeuvres de 1974-1975", Centre culturel comunal, Saint Pierre-des-Corps, France
1978
Galerie Jöllenbeck, Cologne, Germany
"Shows de Noel", Le Consortium, Dijon, France
Galerie Marika Malacorda, Geneve, Switzerland
"Arbeiten 1968-1978", Badischer Kunstverein, Karlsruhe, Germany
"School Project", PS 1 / Institute for Art and Urban Resources, New York, USA
Galerie Foksal / PSP, Warsaw, Poland
Salon Krytykow, Lublin, Poland
1977
Galerie Art Actuel, Nancy, France
Galerie Sonnabend, Paris, France
Galerie Seriaal, Amsterdam, The Netherlands
"Les vacances", Centre d'art et de communication, Vaduz, Liechtenstein
Galleria Bruno Soletti, Milan, Italy
"Stories and Posters", La Jolla Museum of Contemporary Art, La Jolla, California, USA
1976
"Modellbilder: Das Glück, die Schönheit und die Träume", Rheinisches Landesmuseum, Bonn; Galerie Seriaal, Amsterdam, The Netherlands
"Paris zeigt Filme", Staatliche Akademie der Bildenden Künste, Karlsruhe, Germany
Galerie Sonnabend, Paris, France
"Photographies couleurs. Images modèles", Centre George Pompidou, Paris, France
Sonnabend Gallery, New York, USA
1975
"Komische Eenakters" Galerie Seriaal, Amsterdam, The Netherlands
"Zum Totlachen", Städtische Kunsthalle, Düsseldorf; Württembergischer Kunstverein, Stuttgart, Germany
"Tolkar Minnen Fran Barndomen", Kunsthalle, Malmö, Sweden
"Souvenirs de jeunesse interprétés par Christian Boltanski", Centre d'art contemporain, Geneve, Switzerland
Galerie St. Petri, Lund, Sweden
Sonnabend Gallery, New York, USA
Galerie Sonnabend, Paris, France
"Saynettes Comiques", Galleria Enzo Cannaviello, Rome, Italy
Muzej Suvremene Umjetnosti, Zagreb, Croatia
1974
"Le Musée de Christian Boltanski. 1966-1974", Musée Archéologique, Dijon
"Christian Boltanski", Stichting De Appel, Amsterdam, The Netherlands
Galerie Sankt-Pétri, Lund, Sweden
Galleria Forma, Genova, Italy
"Affiches, Accesoires, Décors, Documents photographiques", Westfälischer Kunstverein, Münster, Germany
"Sammlung Lustiger Einakter, dargestellt von Christian Boltanski", Kunsthalle, Kiel; Württembergischer Kunstverein, Stuttgart, Germany
"Les Inventaires des objets ayant appartenu à une femme de Bois-Colombe ", Centre National d'Art Contemporain, Paris, France
"Inventaire des objets ayant appartenu à un enfant du Danemark", Louisiana Museum, Humlebaek, Denmark
Galerie Sonnabend, Paris, France
1973
"Inventaire des objets ayant appartenu à une femme de Bois-Colombe", Staatliche Kunsthalle, Baden-Baden, Germany
Galerie Toni Gerber, Bern, Switzerland
"Inventaires de Christian Boltanski", The Israel Museum, Jerusalem
Royal College of Art Gallery, London, England
Modern Art Agency, Naples, Italy
Sonnabend Gallery, New York, USA
"Les Inventaires", Museum of Modern Art, Oxford, England
1972
Galerie Folker Skulima, Berlin, Germany
Musée Municipal du Costume militaire, Fontainebleau; Musée d'Art et d'Industrie, Saint-Étienne; Musée Municipal des Ursulines, Macon; Musée de Cognac, Cognac; Biennale des nuits de Bourgogne, Dijon, France
Studio Sant'Andrea, Milan, Italy
"Dispersions à l'amiable", Musée Social, Paris, France
1971
Galerie M.E.Thelen, Cologne, Germany
Galerie Sonnabend, Paris, France
1970
ARC / Musée d'Art Moderne de la Ville de Paris, Paris, France
Galerie Daniel Templon, Paris, France
Galerie Ben Dout de Tout, Nice, France
1969
Galerie Claude Givaudan, Paris, France
1968
"La vie impossible de Christian Boltanski", Cinéma Le Ranelagh, Paris, France
Photo Gallery
Spring and Summer 2019
Photos Installation: Stefan Zauner
Photos Artist: Michael Karrer, Julia Kuon
Copyright: CAM GmbH
Photo Gallery
Autumn 2019 und Winter 2019/2020
Photos: Michael Karrer, Julia Kuon
Copyright: CAM GmbH